Naples and its surroundings
Naples boasts one of the most impressive cultural, culinary and artistic heritage worldwide. Its breathtaking landscapes, the centres of excellence in education, research, art and design, the pleasant weather, the lifestyle, the gastronomy and the highly qualified hospitality industry are important distinctive points of the destination.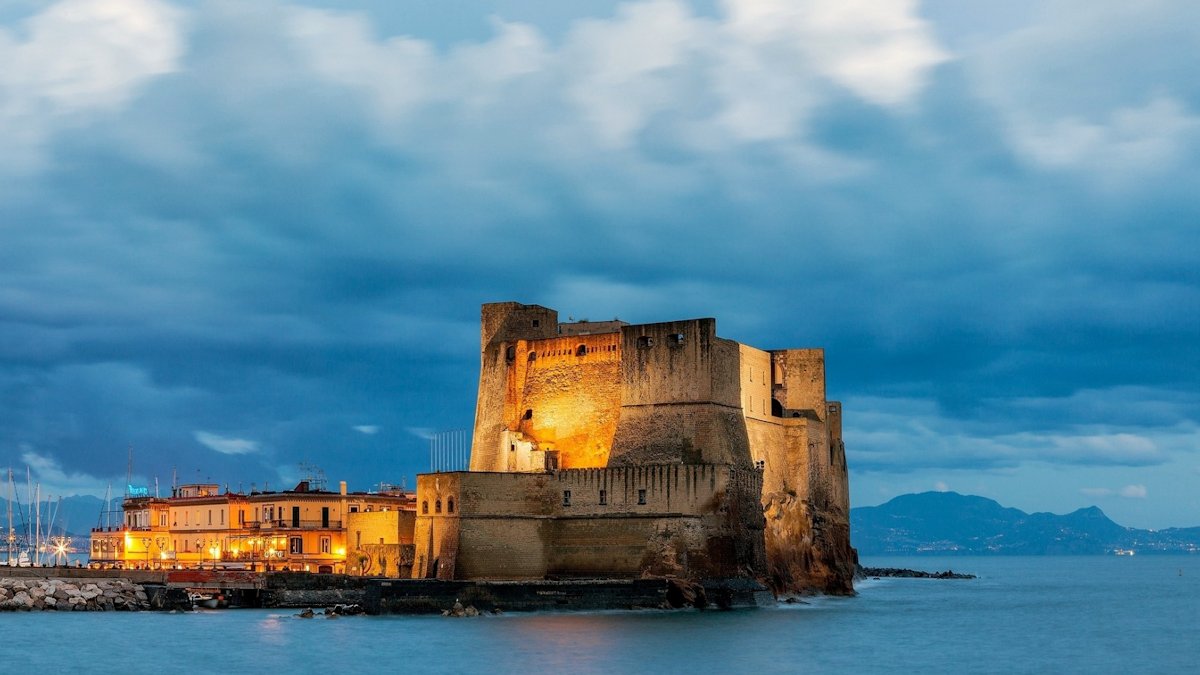 BY PLANE
The major Italian and International cities have direct flights to Naples International Airport.
For info:
CLICK HERE

BY TRAIN
Trenitalia provides train links from all over Italy to the Central Train Station of Naples.
For info:
CLICK HERE

BY CAR
The main motorway links are the A1 motorway from Centre North Italy, the A3 and the A16 from South Italy.

BY SEA
Naples is served by one of the principal European ports and is the departure point for Italian and international cruises. For info about the connections within the Gulf of Naples and to the Amalfi Coast:
For info:
CLICK HERE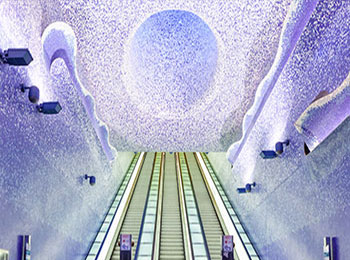 METROART
The Art Stations along Line 1 of the underground in Naples, managed by ANM, are the result of a project by the municipal administration in Naples. They are one of the most interesting examples of decentralized museum spread over the urban area: more than 150 site-specific works of art by 80 protagonists of contemporary art have been placed inside and outside the stations. For info:

CLICK HERE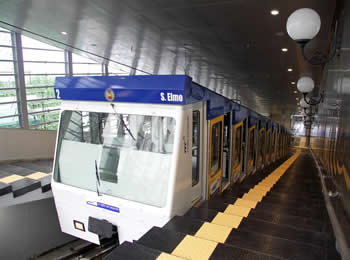 BUS, METRO LINES AND FUNICULARS
There are two underground lines and four funicular railways run by Metronapoli. For info:

CLICK HERE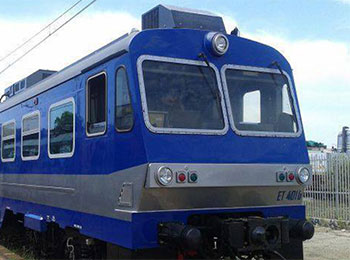 CIRCUMFLEGREA AND CUMANA
The railway lines that link Naples with the Phlegrean area are run by SEPSA For info:

CLICK HERE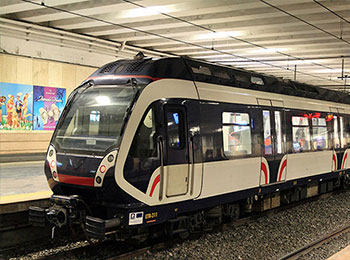 CIRCUMVESUVIANA
Provides links with the suburbs of Naples as well as with Pompeii and Sorrento. For info:

CLICK HERE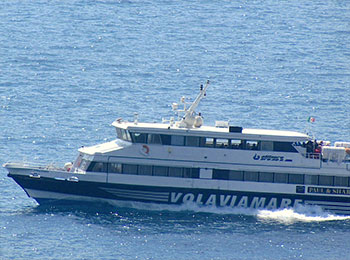 METRÒ DEL MARE
This sea transport service is available in July and August. It offers favourable fares and links Naples to the Region's main seaside resorts. For info:

CLICK HERE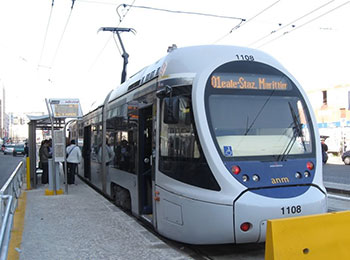 UNICOCAMPANIA
The Consortium of the 13 public transport companies that runs the all-in-one fare system in Campania. Tickets vary in price depending on the travel zone and allow easy access to the Region. The UnicoNapoli ticket allows you to use all means of transport within the city. For info:

CLICK HERE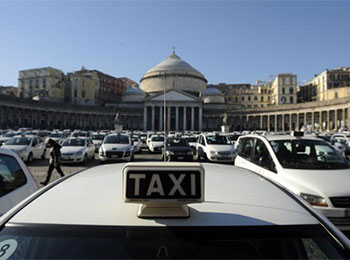 TAXI
Taxis are white coloured. Fixed fare routes in the city district are now in operation and include all extra supplements. Passengers must ask for these fares to be applied at the beginning of their journey. For info:

CLICK HERE
FAQ and pratical information
DOCUMENTS AND VISA INFORMATION
For citizens of European Union countries, a current valid ID is sufficient. For citizens outside EU, a passport is obligatory. Depending on the nationality of the delegates, the duration and the reason for their stay in Italy, it may be necessary for them to obtain a VISA before leaving. In this case, they should apply to the Italian consulate in their country.
TOURIST TAX
The Naples Municipality collects a visitor tax that applies to paying accommodation. The tax varies from € 1.50 to € 5.00 per person/day.
HOW TO REACH NAPLES?
The International Airport is located 5 km away from the city centre and connects Naples with 91 national and international destinations with direct flights. The main European cities can be reached in less than 3 hours. Naples is in the heart of Italy and the high-speed rail network efficiently connects the city with the main national destinations. From Naples you can reach:
Rome in 1 hour
Florence in 2 hours 30 minutes
Bologna in 3 hours
Milan in 3 hours 50 minutes
WHAT IS THE LOCAL TIME IN NAPLES?
Naples is in GMT + 1 time zone.
WHAT IS THE WEATHER LIKE IN NAPLES?
Naples has warm temperatures and a pleasant Mediterranean climate. The average temperatures goes from 3° to 15° degrees in Winter/Autumn and from 12° up to 30° degrees in Spring/Summer.
IS IT SAFE TO TRAVEL IN NAPLES?
Naples is safer compared to many international cities. It is generally secure to walk the streets day and night. Nonetheless, be aware of pickpockets in the most important tourist attractions areas, as well as railway and bus stations, port etc. You often see police patrolling on streets and in traffic both day and night.
WHAT IS THE LOCAL CURRENCY?
The currency is the Euro (€).
IS IT POSSIBLE TO PAY WITH CREDIT AND DEBIT CARDS?
Most shops, hotels and restaurants in Naples accept major credit and debit cards (Visa, MasterCard, American Express, etc.). Not all taxis accept payment by banker's card, so it is recommended to check in advance.
WHAT IS THE WORKING TIME IN NAPLES?
Shops are open from Monday to Saturday from 10am to 8pm (on average); they are closed on Sunday and public holidays, except for the shopping districts. Banks are usually open from Monday to Friday; automatic cash distributors function 24/24. Most restaurants open from 1pm to 4pm, and from 8pm until 11pm.
HOW MUCH AM I EXPECTED TO SPEND FOR A MEAL IN NAPLES?
The price for eating in Naples is convenient with respect to other Italian cities and suit all pockets. Pizza in its original home is traditional and it costs from € 4.50. The price for an espresso coffee is € 1.00 and a bottled water 0.50 L. costs around € 0.80 - € 1.00.
HOW MUCH DO I GIVE AS A TIP?
Tips are appreciated, but not obligatory. Many restaurants may add a service charge, usually around 10%, but if you are very happy with the service, you can add a 5%-10% to the total bill. Taxi drivers appreciate an extra € 1.00 for an espresso coffee!
WHAT IS THE ELECTRICITY SUPPLY STANDARD IN NAPLES?
The electricity network follows the European standard of a tension of 230 V, with a frequency of 50 Hz.
WHAT LANGUAGES ARE SPOKEN IN NAPLES?
Italian and English are spoken.
IS THE TAP WATER DRINKABLE?
Yes.
PUBLIC HOLIDAYS
Public Holidays
| DAYS | EVENT |
| --- | --- |
| 1st January | New Year's Day |
| 6th January | Epiphany |
| Btw March and April | Easter Monday |
| 25th April | Liberation Day |
| 1st May | Labour Day |
| 2nd June | Republic Day |
| 15th August | Assumption Day |
| 19th September | St. Januarius Day |
| 1st November | All Saints Day |
| 8th December | Immaculate Conception's Day |
| 25th December | Christmas Day |
| 26th December | St. Stephen's Day |